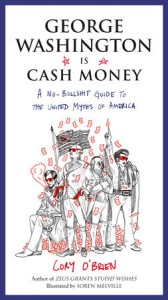 Yup, pretty straightforward.
I have been biting my tongue so hard for the past few weeks
every time someone is like "HEY YOU SHOULD WRITE ANOTHER BOOK"
because I wrote it in like October
It's called
GEORGE WASHINGTON IS CASH MONEY
and it's coming out next month
and you can preorder it RIGHT NOW
and in fact, if you do preorder it
and email a receipt to bettermyths[at]gmail.com
I will give you some FREE BONUS WORDS
including my version of the Notorious Jumping Frog
(Originally by Mark Twain)
and THE BILL OF FUCKING RIGHTS.
WHY ARE YOU STILL READING THIS WHEN YOU COULD BE READING ABOUT MY BOOK
OR JUST READING MY BOOK????