So, plot twist: As of today, I will no longer be regularly updating Myths Retold. I'll still post periodically, but the posts will probably look more like this than like this. I've re-geared my Patreon to support my other creative writing projects (including Face a Week, which I'm very excited about) so check that out if you want stories, novel chapters, and swears on tap. I put all this info at the top of the post so that if it really pisses you off, you can skip straight to fucking off without having to read the rest. If you want to know why I'm ending this project, though, let me do the thing I know how to do: let me tell you a story… 
A little over six years ago I was sitting in my Berkeley apartment, possibly a little drunk, ranting over chat – in a style that would soon become standardized – about the backstory of the oracle Tiresias. That story reminded me of the story of Oedipus, which reminded me of another story, and finally the friend I was talking to recommended – probably more out of a desire to shut me up than anything else – that I start a blog. I threw together a Blogger site in a matter of minutes, copy and pasted our chatlog into it, and named it "Myths RETOLD" (but with the url "bettermyths", for reasons I still don't understand.)

Over the next couple of weeks I updated the site obsessively, pouring in all the stories I'd been brought up on, most of which were Greek and Roman. I showed it to my friends because I thought it was pretty funny, and because I've always wanted people to tell me my work is good. One friend told me the blog had serious commercial potential – all I had to do was pick a regular update schedule and stick to it.
So I started updating three times a week, at regular intervals. I started doing videos, and taking requests in exchange for donations. People asked me what I would do when I ran out of myths to retell, and I laughed and pointed out how many myths there are in the world. I kept my update schedule going as I drove across the country, one time even recording a video in the car during a long-haul drive to New York City. By the time I got back to LA, 2011 was just beginning and I was already tired. It turned out that the limiting factor wasn't the number of myths in the world, but the energy I had for the project.
Then, in February, Neil Gaiman casually made me famous. He'd somehow gotten wind that I'd retold a myth he made up for American Gods, and his one tweet about it got me about seventy thousand hits in a day. My website was suddenly flooded with people saying they loved my work, that they wanted to see more of it, that they wanted to give me money for it. I started selling shirts, which I made myself with a stencil and spraypaint, then moved to having them screenprinted. I migrated the site to my own server, and a cool-as-heck vampire volunteered to redesign it so it didn't look like garbage. The Huffington Post linked to my site, back when people gave a shit about The Huffington Post, and pretty soon I had an email from Perigee Books asking if I wanted to be a published author.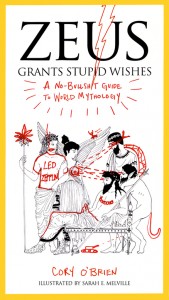 I've wanted to be a published author pretty much since I was born. Of course I said yes. And of course I kept updating my site while I worked on the book. I was useless to Perigee without my "platform," after all.
In Fall of 2011 I moved to Chicago for grad school, and as I studied creative writing at SAIC, I tried not to spread it around that I was paying most of my tuition with an advance for a coffee table book of myths. I struggled to balance the writing and editing process for the book with my grad school responsibilities, and was mostly successful. But I was tired. More tired than I'd been when I got back from New York. More tired than I'd ever been. I talked to my advisors about wanting to quit, but knew I couldn't – at least not until the book was out.
At the same time, my writing style was starting to change. I was getting feedback from my editors and my readers about the subtle insensitivity and imprecision of my work. I started to pare down the "fucks," and did away with words like "pussy," "pansy," and "retard" altogether. More importantly, I was changing as a person. I wasn't fresh out of college anymore. I was seriously studying what I hoped would be my lifelong career, adjusting to a life across the country from my family, figuring out all the tricky bits of "buying a week's worth of groceries" and "having an identity".
I started updating twice a week instead of three times a week. Summer came, and I took more than a month off to go live on a farm in Northern California. I worked on a novel. It was nice. I didn't miss the site. But I knew I was going to have to start updating again when I came home. The book wasn't coming out until March of 2013. When the book did come out, it only made my website more important. My own reputation was the only real marketing the book had, and the (at least perceived) responsibility for its lackluster success fell mostly on my shoulders. I'd long ago run out of myths I knew from my childhood, and was mostly reading myths on the day I was supposed to be re-telling them. On good days I'd spend several hours reading an actual ancient text before distilling it. On bad days I'd just read Wikipedia. I noticed that people didn't respond nearly as well to myths they didn't already know (which, generally, meant anything that wasn't Greek, Norse, Shakespeare, or a Fairytale.) I tried to balance this with a desire to represent other cultures, which I in turn had to balance with my lack of a comprehensive knowledge base in many other cultures.
I finished grad school. I worked in a restaurant. I started updating once a week. I was told that my book hadn't sold well enough to merit a sequel. I took a class to become a certified EMT. Then, on my birthday, someone on tumblr posted a screenshot of my table of contents, and suddenly my book was outselling Hero with a Thousand Faces on Amazon. I made back my advance almost overnight, and suddenly my publisher did want another book.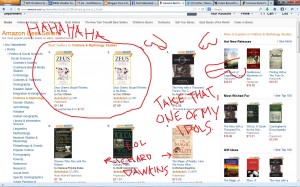 So, of course, I wrote another one. And, of course, I kept the site running while I wrote it. I put more effort into researching the second book, making sure I had good sources for my stories and trying to weave a coherent philosophical thread through the goofy myths. I didn't want to just do boner jokes and say fuck anymore. I wanted to write something meaningful. But that wasn't the project, really.
While I was working on the book I met Philosophy Bro, who introduced me to a whole bunch of other amazing creative people tangentially associated with Cards Against Humanity. It was Philosophy Bro, aka Tommy Maranges, who introduced me to the concept of a "forever project," and how it's sort of anathema to creativity. He was stuck in sort of the same boat that I was – we'd started our sites around the same time, and now we were keeping them online while we wrote books based on them.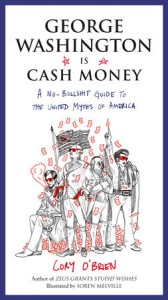 Now my second book (which I think is better than the first, despite not being as popular) has been out for more than a year. Tommy's book is out too (you can buy it here) and he's already moved on to bigger and better things. But I haven't. I've become dependent on this project. Dependent on the money it's brought in, yeah, but mostly dependent on the notoriety. Every week, strangers visit my website and tell me I'm good. That's hard to give up. But I need to give it up. Because, truth be told, I've wanted to give it up for almost five years.
Maybe this sounds like whining. This website, and the people who read it, have given me a lot. I've learned an incredible amount – about mythology, about humor, about writing, and about social justice. I've been able to kind of support myself as a writer. I've experienced the professional editing process, I've sold stuff through the internet, I've marketed two books. Hell, I have two published books, with an imprint of fucking Penguin, which is a thing kid-me would be going fucking bananas over. I'm not trying to discount all the good things that have come from the drunken decision to post a bunch of myths to Blogger six years ago. But it has been six years. And I've written more than six hundred of these. Hell, I started this site before I could legally drink, and I've been running it so long that I am now tired of drinking. I want to do something else with my time now.
So I'm going to. I'm going to write novels and design games and catalog swears and record raps and invent faces. I know I won't have trouble filling my time. I also know that I'm not the only "content creator" who's struggled with this dilemma. There's so many of us, all exhausted, all trying to keep up with the internet's short attention span by constantly reaffirming our presence. But all good things must come to an end, as they say. And I'll add to that: Anything that doesn't end isn't good. So I'm ending this good thing, knowing full well that it may cost me the attention, the respect, and the reassurance of the people I have entertained over the years. But I will make another thing, and hopefully people will like it, and when that thing ends I will make another thing, and another, and another.
Thank you for six incredible years. I hope you'll follow me to the next thing.