Relaunching this website, which I first started thirteen god damn years ago, has got me thinking a lot about what's changed in the past thirteen years. In particular, I'm interested in how today's internet is different than the slapdash beta version I grew up with.
It is a truth universally acknowledged among people of my generation that the internet used to be great, and now it sucks butt in a bad way. Back in the olden times, we lament, everything was free, but we hadn't yet become the product. There were forums, and chatrooms, and nobody had figured out how to send swat teams to each others' houses yet. The worst anybody had to fear from the internet was accidentally downloading a virus from kazaa, (or pedophilia, but shut up, we're trying to be nostalgic).
Nowadays, we complain, everyone online is a bastard, and some of those bastards have guns. The people who faithfully produce our content are all so burnt out that they're having literal health problems. And Amazon dot com is currently using the most sophisticated information infrastructure ever created to figure out how to deliver you thirty assorted plastic ducks as quickly as possible.
So the internet was good, and now it's bad. That's the universally-agreed-upon starting point from which I intended to construct this entire essay. But when I tried to pinpoint exactly what made the modern internet bad, I kept coming up short. Is social media bad? Many people seem to agree that it is. And yet, I owe basically my entire career to social media, since most of the people who originally found this site discovered it when Neil Gaiman posted about it on Twitter. Online abuse is rampant, and it's certainly better organized than it's ever been, but the worst of it is still being organized on the same sorts of forums and private groups that have been around since I was a kid. And what about Amazon? They're so cartoonishly evil that I would not be surprised to learn they'd started taking payments in baby skin, but did they, like, invent capitalism? Rich people have been drinking our blood and shitting in our water since forever — we're just more aware of their skulldickery than ever before.
I began to doubt myself, to ask whether things had truly been better during my youth, or whether I was simply following the curmudgeonly trajectory of all aging men. Maybe things just feel worse now because I'm older, I told myself, and being older blows. I have to pay taxes now, and if I shit myself in public it's a whole big thing and I have to apologize to all the other guys in the funeral procession. Of course I'm nostalgic for an internet that reminds me of a time when things were easier, when my brain was smaller and spongier. Maybe I should focus on what's gone wrong with my own life, rather than attempting to diagnose the whole entire internet.
No wait, fuck that, I can do this.
Because the truth of the matter is that the internet feels different now. It feels bad. I can't stop checking my phone — sometimes I find it in my hand after specifically putting it down and promising not to look at it — but staring at that tiny screen feels like dragging sheets of sandpaper across my brain. I don't actually miss forums or chatrooms — I never joined any chatrooms, and when I joined the SomethingAwful forums at the age of thirteen, I narrowly avoided being banned for posting thirty pictures of a guy with his dick in his own butt and was too embarrassed to ever go back — but I do miss how the internet used to feel.
I miss watching hours of dogshit animation on Newgrounds, and occasionally being shocked by something really, really good. I miss traveling cross-country, messaging strangers on CouchSurfing and asking to crash at their houses for free. I miss the web game I used to play that was just all of us going out into the world, doing artistic crimes, and posting documentation of those crimes with our faces blurred out. I miss the horrific blue-and-orange color scheme of my old blog on Xanga, and I miss the earsplitting sound of a new incoming message on AIM.
But also, the internet I grew up on was full of utterly horrible shit. I mean, at thirteen years old I had easy access to thirty pictures of a guy with his dick in his own butt (it was the same picture thirty times, but still). And that was just the tip of the iceberg. The concept of Rickrolling, now itself an outdated custom, was a sanitized version of the "shock sites" we used to trick each other into viewing: lemonparty, goatse, hai2u, two girls one cup; heinous depictions of sex acts we barely understood. To this day, I am still unreasonably afraid of helicopters, because when I was a teenager I saw a bunch of jpegs of helicopter decapitations on rotten.com. The internet was a funnel of poison, directly into my brain. It was probably really bad for me! So why do I still miss that internet? How can I be nostalgic for that?
Well, there's a weird common denominator between the stuff I miss and the stuff that messed me up: it was all, viewed objectively, pretty bad. Rotten.com was, like, morally bad. But Xanga and Newgrounds and so on were bad in a different way: bad, as in poorly executed. So for me, it's not that the internet used to be good and now it's bad. It's that the internet used to be awful, and now it's too good. Like, okay, let me give you an example…
Maybe you remember the Million Dollar Homepage. If you don't, it's a pretty simple concept: some dingus bought a website, cordoned off a million pixels, and then sold them as ad space, one dollar per pixel, until all the pixels were filled and he had a million dollars. It's still up, and it looks like ass: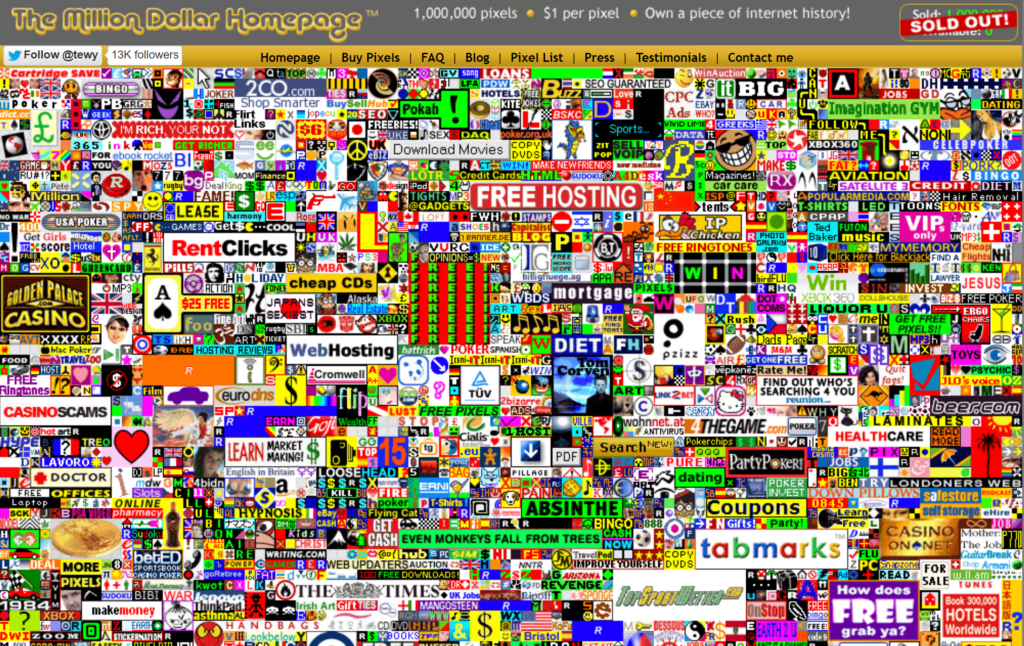 Jesus Christ. Just looking at this pile of clown vomit makes me want to hose my eyes out with one of those things dentists use to waterboard people. But contrary to what you might hope after looking at that shit, the guy who made it is still alive, and now his Twitter page looks like this: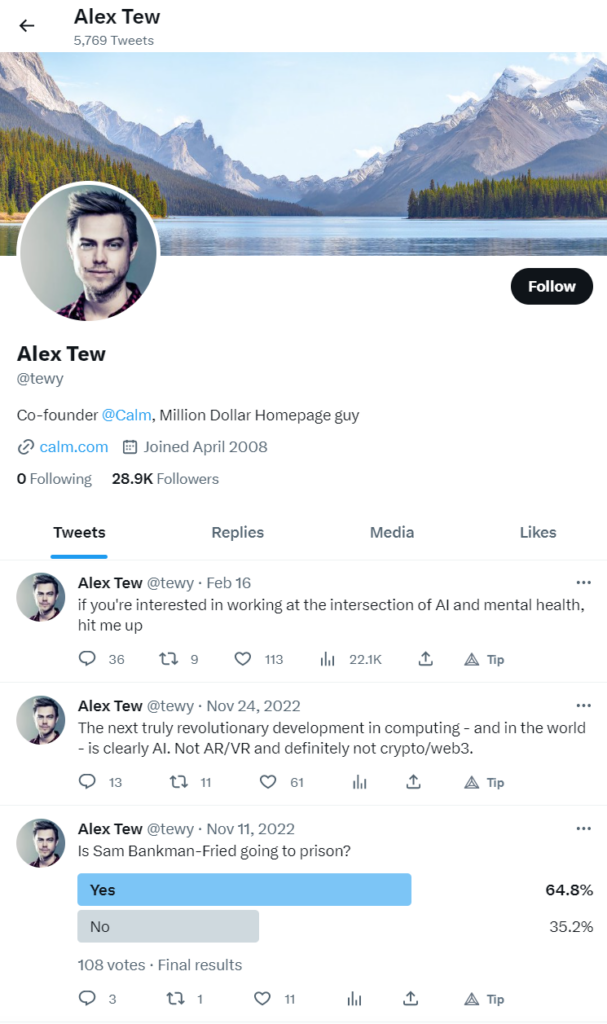 Isn't this just absolutely the most pleasant thing you've ever seen? I can't think of anything that better illustrates the difference between the internet we have now and the digital trap house I grew up in. The internet used to feel like a foreign place — fraught with danger, populated by pseudonyms, totally uncurated. It was a legitimately dangerous place. But that danger, and cringe, and bullshit all ended up online because the internet was an escape from real life. Now all the bad shit on the internet is there because the internet is real life, just amplified.
The truth is, pretty much all the stuff we miss about the old internet is still on the internet. SomethingAwful still exists. The Million Dollar Homepage (unfortunately) still exists. This website still exists. The only reason the internet feels like it's changed is because we've changed the way we use it. Why sift through the muck yourself, when you can float along a lazy river of algorithmically curated content?
And the fucked up thing is, I've participated in this transformation without even realizing it! I don't hit up strangers on Couchsurfing anymore, I book through AirBnB. I don't trawl Newgrounds for edgy content, I watch whatever YouTube decides to serve me. And I certainly don't post shirtless videos of myself recorded on a built-in webcam anymore, as much as I'm sure certain fetishists would like me to.
Part of this is a money thing. I make a lot more money than I used to, in no small part due to the name I made for myself writing dumb shit on this website. More money has changed me in two big ways: it's allowed me to pay for convenience rather than making due with inconvenience, and it's made me beholden to the system that pays me. I don't just represent myself — I represent everyone who pays my bills. The amount of money being made online these days is orders of magnitude greater than it was when I was growing up, and all that money constrains what the internet is, the same way it constrains me.
One reason I was hesitant to start posting on this blog again is because it feels so outdated. Even the word "blog" feels like a relic of another era. Every time I thought about writing something, I'd end up with a checklist of things I needed to do to "modernize" the site: Switch the page to responsive design, do some kind of Medium integration, commission new background art, and should I even by writing, or should I be doing video essays now instead? All those to-dos, all those production-quality concerns, kept me from ever getting started.
Ultimately, though, I decided it was better to do it badly than to not do it at all. And I guess that's what I miss about the old internet, to put it simply. I miss when we were all bad at it, but we did it anyway because nobody could stop us. When the boundary between content producer and content consumer was so membrane-thin you could step right through it. I'm trying to reclaim a little bit of that for myself — to make a space where I can do something and not worry about whether it sucks.
In the end, I know the internet's never going back to the way it was. That's no reason to be pessimistic, though. Before the Wild West period of the Internet, there was the actual Wild West, and even now I'm sure a new gonzo frontier is opening up. I'm not cool enough to know where it is, but I believe in my heart that somewhere out there twenty-somethings are creating utter garbage and sharing it with their friends. I want that for them.
I want that for all of us.