so there's these two fuckin kids right
one is smart
the other is wayyyy dumb
and this story is a fairytale
so obviously it is about the dumb kid
but there are a few details you should know about the smart kid
one:
he's a HUUUUUGE pansy
every time someone tells a ghost story or it gets cold
he is shivering and shaking all over the place
and the dumb kid
whose name is hans
is SUPER JEALOUS OF THIS FACT
probably because he is dumb
actually that is the only detail you need to know about the smart kid
now he is out of the story
okay so one day Hans's dad is like SON GET A JOB
and Hans is like dad I will get a job
as soon as I learn to shiver and shake like my big bro
and his dad is like SON THAT IS YOUR DUMBEST STATEMENT
IN A LIFETIME OF DUMB STATEMENTS
WELL DONE
then he goes to his local minister to ask what to do about his dumb son
and the minister is like don't worry man
I will scare the shit out of your son for you
lemme give him a job ringing bells for me
so that is what he does
and one night Hans is going up to ring the bell
at like midnight
because the assholes who run this church wanna wake everybody up all night long
and the minister has dressed up as a SPOOOOKY GHOST
and he is standing on the steps in the belltower
and Hans is like hey dude
who are you
get out of my way
and the minister doesn't say anything because he figures that's pretty spooky
but the problem is that you need to have an imagination to get scared by ghosts
so instead Hans just kicks him down the stairs and then gets fired
so his dad kicks him out of the house
for being worthless and injuring the local minister
he's like son
here's fifty bucks
get the fuck out of my house and never mention that you are my son
and Hans is like ok dad no problem
so he starts walking
and this dude walks up to him like hey dude
I bet you fifty bucks I can teach you how to shiver and shake
CLEARLY THIS GENTLEMAN HAS BEEN FOLLOWING HANS FOR A WHILE
so Hans is like uh DUH
of COURSE i want to make this stupid bet
so the dude takes him to a clearing where SEVEN DUDES HAVE BEEN HANGED
and he's like alright man
spend the night watching these dead bodies swing back and forth
THAT'LL teach you to shiver and shake
so Hans hangs out there all night
but apparently you need an imagination to determine that hanged guys are dead
so he assumes these guys are just cold
you know
from hanging b the neck for so long
and he cuts them down and puts them all by his fire
so they catch on fire, obviously
and he gets angry at them for their poor fire skills
so then he goes and re-hangs all seven flaming corpses
and when the dude comes back in the morning to collect the 50 bucks
he's just like uh
holy shit
and then he leaves.
So Hans gets a ride into town
and he's in the inn, muttering about how he wants to learn to shiver and shit
and the innkeeper is like HAVE I GOT A QUEST FOR YOU:
LOOK
RIGHT HERE:
LOCAL KING SEEKS DUDE TO SLEEP FOR THREE NIGHTS IN HAUNTED CASTLE
and Hans is like HAUNTED CASTLE?
PERFECT!!!
so he goes to the king like yo king I will sleep in your castle
and the king is like seriously?
sweet!
Do you need any food or anything?
and Hans is like nah
just a carving knife, a cutting board, and a LATHE
GUYS
THIS IS WHAT A LATHE IS: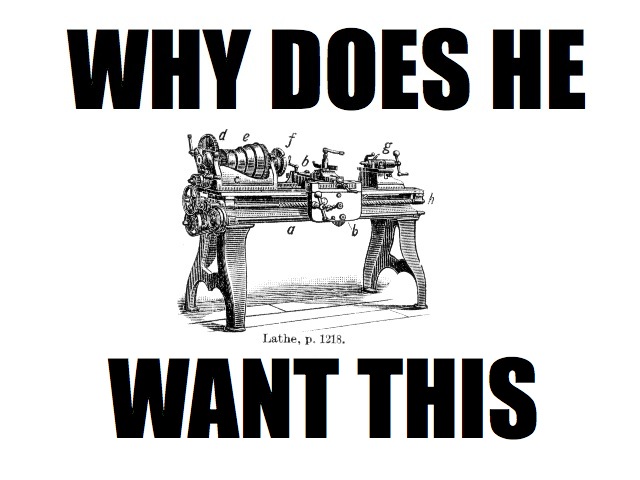 well, regardless
he goes to the castle with his big sack of useless shit
and he sits down by the fire
and all of a sudden there are all these cats all up ons
they are like hey dude
wanna play poker?
and Hans is like yeah ok
but lemme see your claws first
oh man
those are big claws
i think I'll pass.
Then he kills them.
Uh?
Yeah.
Then he kills a bunch of other dogs and cats that show up
Killing machine.
I know.
Then the next night all these really ugly dudes come down the chimney
they come down in halves
and then knit themselves together
and then they start bowling
WITH BONES.
SOOOO SPOOKY
but hans doesn't give a FUCK
he's just like hey guys
would you like me to use my lathe on those skulls
sos that they roll better as balls
I have a lathe
I brought it JUST FOR THIS PURPOSE
and they are all like sure
and then he bowls with them all night
and they win a couple bucks off him
because he sucks at bowling
just like how he sucks at EVERYTHING ELSE
but he's still got one more night to go
so what happens on the last night
is these dudes show up with a coffin
and there is a dead guy in the coffin
and as we have already established, hans does not understand death
so he starts spooning with the dead body to try and wake it up
AND IT DOES
and then it thanks him by TRYING TO STRANGLE HIM
so he re-kills it and stuffs it back in the coffin
and then some old dude shows up and challenges him to a feat of strength
which is splitting anvils in half with axes
which hans is so good at that he manages to trap the dude's beard
inside of the anvil he split
and he won't let him go until the dude gives him all the castle treasure
cause there is treasure in the castle, obviously
and then he gets to marry the king's daughter
but he STILL doesn't know how to shiver and shake
so he's married to this princess chick
and she is SICK of him bitching about how he can't shiver and shake
so she asks her maid what to do
and her maid is like girl
all you gotta do to get him to shiver and shake
is tell him about your lady problems
but THAT doesn't even work
so then they come up with a last ditch plan
which is to throw a bunch of water and frogs on his naked skin while he's asleep
and it TOTALLY WORKS
and dumbass Hans is SO PLEASED for the REST OF HIS LIFE
which is actually really short because then he gets pneumonia and dies.
so the moral of the story
is that you can pretty much just make decisions at random
and it will probably turn out great.
The end.