Guys guys
I found a new norse myth
thanks to dedicated follower FellatioFlower69
I totally thought I was out of those!
So yeah, if you know any I haven't done, totally tell me about those
cause as you are about to see, this one is pure quality
(also if you know any favorite Japanese or Hindu myths, I'm all ears)
ANYWAY
So when last we left our heroes
they had just blown up this giant named Thjazzi
who was also an eagle for some reason
but PLOT TWIST, my sexy friends
you see, it turns out Thjazzi had a FAMILY.
FAMILY? WHAAAAAAT??
Thjazzi can't have a family!
He's one of the enemies!
Enemies don't have families!
That's what makes killing them so righteous and easy!
But I guess Tjazzi didn't get the memo about that
because he just went ahead and got bizzy with some giant lady
and had himself a girl named Skadi
also known as Öndurguð
which means SKI GOD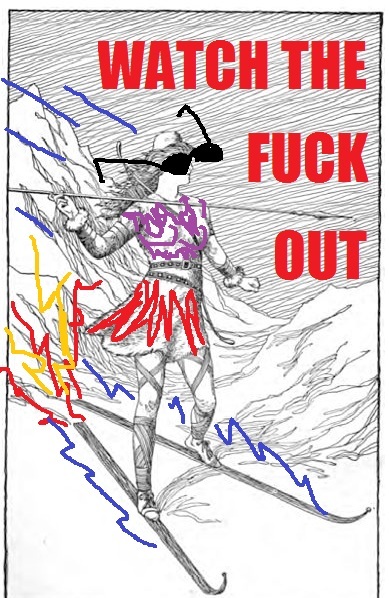 So Skadi is tearing the shit out of some truly righteous slopes
when she finds out her dad caught on fire and died
which makes her go WHAAAAAAT
and immediately haul ass off those prolapsed slopes
and down to Asgard where she wastes no time yelling at dudes
she's like DUDES
THAT EAGLE YOU JUST SET ON FIRE WAS MY DAD
and the dudes are all like OH NO WHATEVER
but Skadi's about to blow the whole place up with her ferocious skiing
so Odin just does what he normally does in these situations
he offers marriage as a consolation prize!
so Skadi's like All right
I like where this is going
but as my dead eagle dad always used to say
good things come in threes
like juggling balls and threesomes
so condition 1 is I get to marry one of your dudes
condition 2 is that you have to memorialize my dad somehow
and condition THREE is that you have to make me laugh
SO FOR CONDITION ONE
all the dudes in Asgard line up to potentially bone this hot brutal ski lady
but the thing is
Skadi has a SERIOUS foot fetish
so she decides to choose a dude based SOLELY on the condition of his feet
(haha get it? sole like feet? Yeah man I went to college for this shit)
so she sees some absolutely toe-tacular shoestuffers
and assumes they must be the feet of Baldur
and so immediately agrees to marry him
but then it turns out to be this other god Njord
who no one cares about
and eventually they get divorced
so that's 0 for 1 right there for Skadi
but the good news is she's still got 2 more conditions to fill
so for the next one Odin's like ALRIGHT
I am going to memorialize your father in the only way I know how
which is to tear out his eyeballs and throw them into the sky
and hopefully they become stars or something
and Skadi is like I don't know how I feel about that
and Odin is like this is what you signed up for
when you entered the Norse pantheon
this is how we do funerals in brutal scandanavian ice-hell
alright, so zero for two now
things aren't looking too good for Skadi
but there's still hope
because if the gods can't meet Skadi's last request
she wins like infinite handjobs or something
I don't know
that's generally how these things work, right?
well whatever
the point is that Skadi is feeling pretty confident
because she is a SERIOUSLY SOMBER DAME
like for real
this chick would not laugh if you stapled her to a tank of nitrous oxide
stripped naked and surrounded on all sides by the whirling feathers of the hilarity pelican
although to be honest I don't think anyone would be able to laugh in that situation
because of all the staples
WHATEVER
the point is that Skadi's condition is not unique
these are NORSE gods after all
none of them even know what joy IS
none of them, that is, except for loki
Loki is the straight up macguyver of making people bust a gut
he just steps up like "alright guys
all I need is a piece of string, and a goat"
now for many people, just those words would be enough
but this is a tough crowd Loki is dealing with
and he is used to dealing with them
he knows that he is going to have to jape harder than he has ever japed before
he is going to have to tap into his deepest reserves of jocularity
he is going to have to hone his comedian's wit to a razor's edge
so he ties the goat to his balls.
that is – no fooling – what happens in this ancient myth about familial honor
Loki ties a goat to his balls and runs around screaming until Skadi cracks a smile
which means she has to go away and be happy about her ugly husband
and never again mention the fact that the Aesir set her dad on fire
and then threw his bleeding eyeballs into space
SO
FINAL SCORE:
Odin: 3
Skadi: 0
Loki: still has his balls tied to a goat
I hope that works out well for him.
THE END.