Hey friends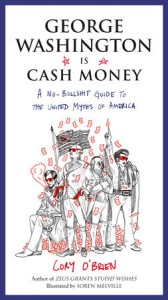 guess what?
I wrote another book.
The first one was so rad that I decided to do it again.
This one is about the mythology of the US of A
so it's pretty much just a lot of fluff
designed to safely contain Teddy Roosevelt's dick.
Like my other book, this one has rad pictures
drawn by the same rad human who did the first one
and it is also equally throwable
so if you threw my first book at someone
but they didn't leave you alone
you can just buy this one and throw it too
instead of having to go pick that one up.
Seriously it will make so much more of an impression
if you sit there glaring at them
while the postman hands you the sequel to the book you threw
and then you immediately throw it.
It's totally worth the wait.
BUY THREE OF MY BOOK FROM EACH OF THESE PLACES:
AMAZON.INTERNET
INDIEBOUND!
PENGUIN ITSELF!
(NEW) AUDIOBOOK VERSION!!!!!
Secret Tip!
If you go into an actual physical bookstore and tell them you want my book, they'll usually order a couple extra and stock them in the store, where other cool people might buy them! It's sort of like you bought three books but only had to pay for one!