Right so Halloween was yesterday or something
I don't know
my memory of the last few days is sort of hazy
i think I might have gotten into a fistfight with Luigi on the train
and this morning while i was making breakfast i found a lot of blood
so i have to figure out what to do with that
but yeah anyway here's a ghost story from Japan.
So there's this temple called Amidaji
it was built for a very practical purpose
which is that about 700 years ago
there was this horrible battle right here
between the Heike clan and the Genji clan
and the Heike clan got totally wiped out
but they were really poor sports about it
so their ghosts all hung around sinking ships for 700 years
until finally someone was like fuck
we gotta built a temple or these ghosts will never shut up
so yeah now there's a temple there.
Anyway the reason this temple is important
is because the best musician lives there
his name is Hoichi and he is the Ray Charles of ancient japan
as in he is blind and he can play the shit out of a biwa
which is a nutsack-shaped guitar that you play with a pick the size of your hand
it is a dope instrument
and Hoichi is so good at playing it
that even GOBLINS weep to hear him.
FUCKING GOBLINS.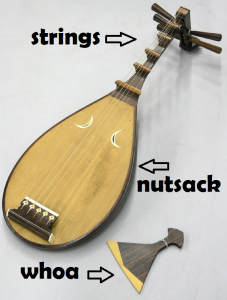 Hoichi has worked out a sweet deal with the priest of the Amidaji temple:
basically Hoichi gets to crash for free indefinitely
and in exchange all he has to do is play music for the priest
whenever he's got friends over or he's high or whatever
so basically Hoichi has no incentive to ever move out or get a job
and life is good
UNTIL ONE NIGHT
the priest goes out clubbing
and leaves Hoichi alone at the temple
and Hoichi is hanging out on the porch strumming his guitar
trying to pick up chicks
when all of a sudden somebody starts yelling "HOCHI
YO, HOCHI"
and Hochi is like "uh yes sir?"
because he assumes that anybody with sack enough
to just charge up and start yelling his name at midnight
is probably a samurai or something
(in modern times
this is no longer a safe assumption to make)
So the Samurai is like "I represent a very wealthy
very SECRET lord
who would like very much to hear you play your biwa and sing about shit
come with me right now or I will murder you and no one will care"
and Hochi is like "Well shit, I guess I'm being kidnapped
but at least I'm being kidnapped to a party"
so he lets this mysterious asshole take his hand and drag him away.
Pretty soon they arrive at a huge mansion
which is weird
because Hoichi does not remember there being a huge mansion in this town
but what does he know, he's blind
and it feels real enough.
Eventually he sits down in a room full of people
and they're all like "Okay dude play for us"
and he's like "What should I play?"
and they're like "We heard that your specialty
is the war between the Heiki and the Genji
so how about that."
This is baby stuff for Hoichi.
He busts out a melodically perfect epic like he's taking a shit
everyone is devastated by the sheer beauty of this jam
they're all fucking weeping, it's disgusting
and then he finishes and they're like "OH DAMN SON
WE KNEW YOU WAS GOOD
BUT FUCK GOOD
THAT WAS STRAIGHT UP EVIL
WE WOULD LIKE TO BOOK YOU FOR THE NEXT SIX NIGHTS"
and Hoichi is like "fuck yessssss a real gig"
so then the samurai grabs his hand and leads him back to the temple
but before he lets him go he's like "Listen dude
that lord you played for
he's on some Howard Hughes shit
doesn't want anybody to know who he is
so if you tell anybody what's going on
I will personally end you."
and Hoichi is like "Yup no problem got it."
So Hoichi goes and crashes out around sunrise
and the priest was out all night clubbing so he has no idea Hoichi was gone
but the NEXT night Hoichi sneaks out again
and the priest tries to hit him up for some music
but he's NOT THERE
so when Hoichi stumbles back in in the morning the priest is waiting for him
like "where have you been?"
and Hoichi
who does NOT WANT TO JEOPARDIZE THIS GIG
is like "Uhh
weird … sex … stuff?"
but the priest isn't buying it
he's thinking "this is Japan
if Hoichi was into weird sex stuff
he could be doing it during the DAYTIME.
No there is only one possibility:
DEMONS."
So the next night when Hoichi goes out
the priest sends some of his boys to follow him
and they lose him pretty quickly because they are chumps
but on their way back to the temple
they suddenly hear Hoichi soloing SUPER HARD
and where is the music coming from?
THE MUSIC IS COMING FROM INSIDE THE CEMETERY.
So they run up to the cemetery
and Hoichi is playing his fucking hands off for a bunch of tombstones
and they're like "this is crazy. Hoichi, stop shredding in the cemetery"
and Hoichi is like "NO
THIS IS THE DEFINING MOMENT OF MY CAREER"
so they grab him by the arms and haul him home because he is obviously crazy.
When he gets back to the temple the priest is like "ok dude what the fuck"
and Hoichi breaks down and tells the whole story
and the priest is like "oh ok I get it
yeah those are the ghosts of everybody who died in that battle you were singing about
I guess they really like to wallow
anyway it's a good thing we saved you"
and Hoichi is like "Saved me?
Those ghosts just wanted to book me for a week.
Now that you know what's up, they will instead want to murder me
how is this saving?"
and the priest is like "Dude they're ghosts
you'll thank me later
anyway you're probably right about them wanting to kill you.
I'm gonna need you to take off all your clothes
so I can draw demon wards all over your body
and then the ghosts won't be able to see you."
Hoichi doesn't really have a lot of options at this point
so he takes off his clothes and lets the priest draw a bunch of dicks on him
and then sits in a rigid meditation pose all night
waiting for this plan to fail.
Midnight rolls around and the samurai shows up again
he's like "YO, HOICHI
I HOPE YOU ARE READY TO TEAR SHIT UP TONIGHT
WE GOT PHARELL, YOU GUYS ARE GOING TO DO A DUET, IT'S GONNA RULE"
but Hoichi doesn't say shit
so the samurai comes inside and he's like "Huh
that's weird
I was hoping to find Hoichi in here
but all I see is a pair of floating ears.
I guess he must have disappeared from rocking too hard or something
but my boss will be pissed if I don't bring back anything.
Better rip off these floating ears and bring them back
yes, that sounds sensible."
So the samurai rips off Hoichi's ears
but Hoichi just grits his teeth and bears it
while blood gushes out of both sides of his head
UNTIL SURNISE
when the priest comes in
almost slips on Hoichi's blood
and then is like "Ohhhh shit
oh damn
wow
buddy
Forgot to draw demon wards on your ears, buddy
I told my intern to do that part but I guess he forgot
oh wow I'm so embarassed
but the good news is that the demons won't bother you anymore!"
and Hoichi is like "Hooray
the best audience I have ever had or could ever hope to have
ripped my ears off and now thinks I'm dead."
and the priest is like "You're welcome!"
Obviously Hoichi isn't too keen on living in the temple after that
which i guess was the push he needed to become a famous musician
so it looks like it all worked out in the end.
So the moral of the story
is that if someone passes out before you at a party
please, for their sake
be thorough.
The end.